We took advantage of a $39pp Grab One deal at Hells Gate for a mud bath and sulphur spa (usually $75pp). When I think of a mud bath I think of a thick pool of mud like this one in Colombia. At Hells Gate you step into a pool of hot muddy water and then scoop mud out of a container with your hands to give yourself a mud body mask ….
There's a 20 minute limit in the mud bath due to it causing a rise in body temperature, it's long enough for a mud face mask to dry and start cracking …..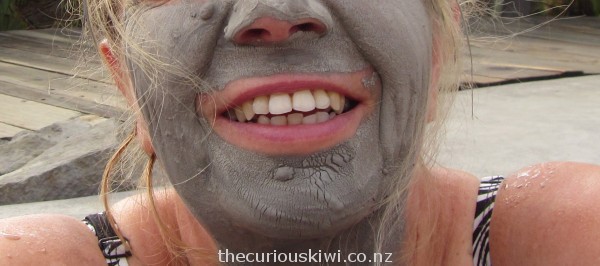 Given it was a winters day I wasn't looking forward to the required cold shower to wash away remnants of mud and cool down. However stepping out from under the cold water was one of the best parts of the experience, I felt so awake and aware. The sulphur spa soon sent me to planet relax, and with no time limit you're free to linger.
It was a novel experience playing with gloopy mud and the mud face masks left our faces feeling beautifully soft and smooth.
Things to know:
Bookings need to be made for a mud bath and each booking is allocated its own bath, the hot sulphur pools are communal.
The staff fill you in on arrival, but take all jewellery off, as well as make up, moisturiser etc.
There's more than a whiff of sulphur at Hells Gate and if you're bathing it gets into your pores and the fabric of swimwear. The FAQ's tell you how to get rid of the smell. I put our togs and towels in the washing machine as soon as we got home and washed them as normal without ammonia. I left them out on the line overnight and they were smell free. We smelt a bit whiffy for a day or so though, but a couple of showers sorted that out.
Take a bottle of cold water, or you can buy a drink from the cafe. The cafe cabinet was almost empty when we visited, in summer it may be better stocked.
If you want to do mud treatments at home Hells Gate has a range of Alite products priced from $3.50 – $35.00.