-Annie's Victorian Tea Rooms & Store closed July 2013-
I would delete this post but it relates to – Trip Advisor's dodgy photos – 'Photos from around the world'

Leaf tea, pretty china cups and staff dressed in Victorian attire are part of the experience at Annie's Victorian Tea Rooms, located at the entrance to Oamaru's Victorian Precinct. As a fan of a good cup of Earl Grey tea and scones that's what I selected from the menu ($10 for both). The tea came in a silver tea pot and the scones were sweetly presented. Good looking slices of cake, savoury gems, pasta and ice cream sundaes are also on the menu. We were served by the lovely Fleur, a superb ambassador for the tea rooms.
The interior and exterior of the tea rooms and store were restored and designed to reflect how they would have looked in Oamaru circa 1885. An antique Victorian cash register and telephone sit on the store counters and old photographs are on the walls. The surroundings are complemented by a pianist who plays most mornings at 11am.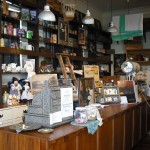 Step in to Annie's and step back to a time when ladies and gentlemen met for tea and conversation. Annie's Tea Rooms closed July 2013.
We also recommend ..


Midori Japanese Restaurant, 1 Ribble Street. It was our second visit to Midori in March 2012 and it's still serving good food at reasonable prices. Beverages are also well priced and the staff are charming – locals agree. Open 7 days.