Looking online for a hotel in Queenstown I came across budget rooms at Rydges Lakeland Resort advertised as 'Private Backpacker Style Accommodation'. Given I'd booked a night in a Sanctuary Dorm at Base Backpackers I thought I'd stick with the theme and see how the Rydges backpacker accommodation stacked up. In short, Rydges is top shelf.
Twin budget (backpacker style) room at Rydges, Queenstown

The room and ensuite were both large and light, facilities included a fridge, tea and coffee making provisions, iron and ironing board, flat screen TV with Sky, the usual towels and toiletries, and unlimited free Wi-fi.
How much? I paid $94 for a twin room earlier this month, the rate range is $90-$135* double, twin or quad(!) per night (online bookings only). If you're a Rydges card holder there's a 10% discount on the rate. The Rydges card also gives 20% discount on food and drink purchased in Fireside Lounge Bar (cards are free).  As a comparison, Base Backpackers have windowless double/twin rooms with ensuite from $79**, and double/twin rooms with window and ensuite from $109**.
Swimming pool & spa at Rydges, Queenstown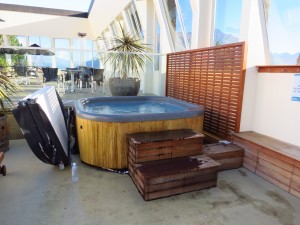 If I had to identify a negative aspect of the budget room it would be that it was on the 8th floor and faced a street, traffic noise was minimal though so it wasn't an issue during my two night stay. The room didn't have air conditioning but opening the windows worked well enough for me.
Rydges, Queenstown

The Rydges is opposite Lake Wakatipu and it's a few minutes walk down the lake front to town. It's a big hotel with the usual hotel facilities – pool, spa, bar and restaurant. If you're a flashpacker heading to Queenstown and looking for a bit of luxury the budget rooms are well worth considering.
*Rydges charge 2% if you settle the bill by credit card.
**Base Backpackers charge a 2% fee for online bookings.