Checking links on an old blog post I saw one of our photos on Trip Advisor, it was a surprise given we're not Trip Advisor members. It was more surprising that the photo is of scones, jam and cream and was taken at a tea room in Oamaru but is attached to a Trip Advisor review for Midori Japanese restaurant in Oamaru.
How did it happen? In April 2012 I wrote a blog post about Annie's Victorian Tea Room (now closed), it included a mention of Midori Japanese restaurant and a photo, Trip Advisor took the wrong photo. The source of our photo is labelled as 'Photos from around the world'.
There are a few lengthy threads on Trip Advisor about 'Photos from around the world' that have been attached to incorrect Trip Advisor reviews. Many of the examples given in the threads have either had the dodgy photos removed or correct images placed. Our photo has been up for months on the Midori Trip Advisor page, the metadata is stripped but it's obvious the image is ours.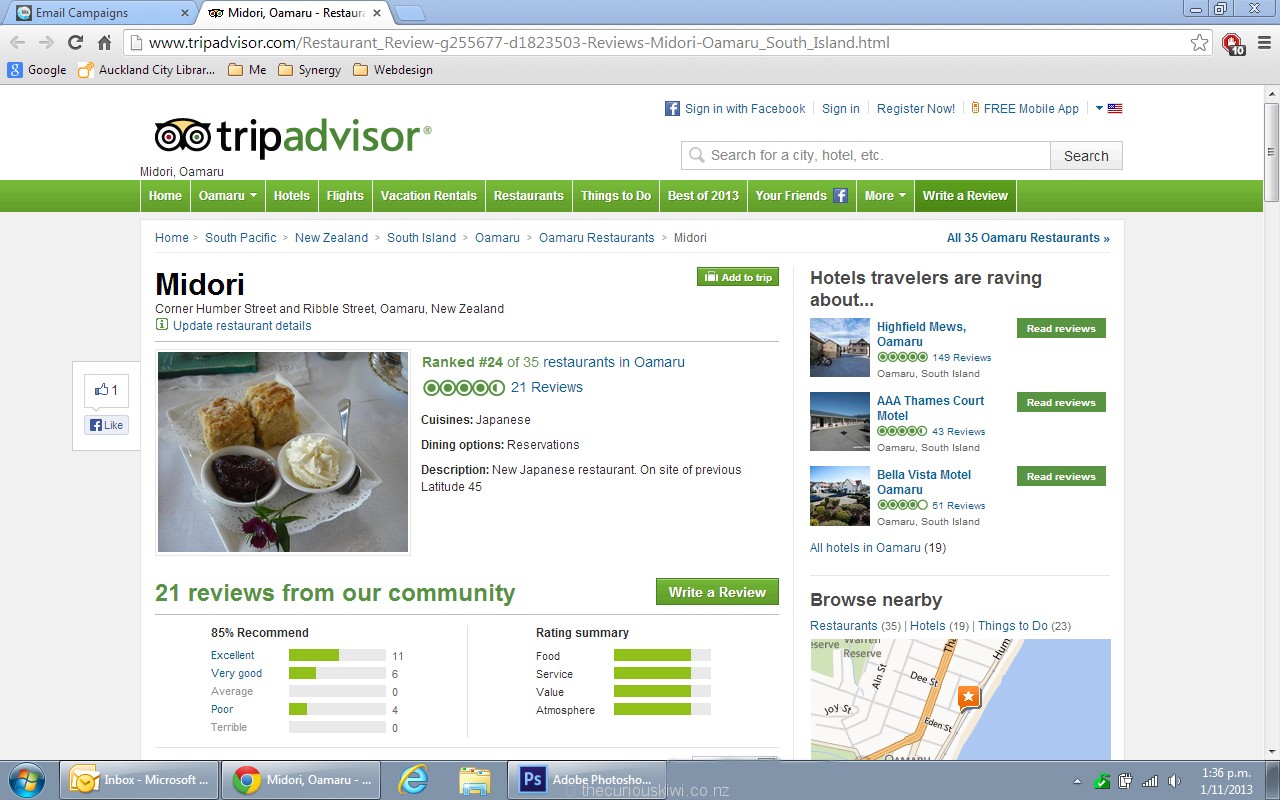 A Trip Advisor staff member commented in one of the threads about 'Photos from around the world' as follows:
"46. Re: Where did the "Photos from around the world" come from?
Jan 11, 2013, 5:59 PM
Hi folks, Thanks for voicing your questions and concerns about "Photos from around the world" photos. These are photos sourced from a number of different places to enhance our photo coverage for restaurants and attractions. Our goal is to make the traveler experience better by showing a photo of these places on the listing. As you have brought to our attention, there are some photos that appear incorrect. We are optimizing our efforts in this area and appreciate your feedback. …."
The Trip Advisor staff member goes on to suggest users 'Report Inappropriate Content' to have incorrect photos removed. We could, but why would we do Trip Advisor's work for them? It's also comical that a Japanese restaurant would serve scones and cream. However there is the bigger issue of copyright infringement, and why should contributors help get rid of evidence of copyright infringement by Trip Advisor?  One contributor was interested in a joint action against Trip Advisor for piracy, I empathise with him after finding our content on itravelNZ.
I don't know why the self professed 'world's largest travel site' would risk its reputation by taking copyrighted images without permission, but I'm in no hurry to join and provide legitimate travel photos or reviews. However, in the highly unlikely event that a Trip Advisor staff member reads this, please send US dollars, and lots of them for the use of our photo, we may give you the correct image free.