We were travelling in the slow lane on this trip to Queenstown so a cruise on the TSS Earnslaw out to Walter Peak Station for a farm tour and afternoon tea sounded like the perfect afternoon out, and it was.
The grand old Lady of the Lake is a coal powered steamer and made her maiden voyage in 1912, the same year as the Titanic. In the early days she delivered sheep, people and supplies to isolated farms along Lake Wakatipu. Road improvements meant less demand for steamships, but tourism saved the Earnslaw from the scrap heap.
It's hot work keeping her moving and anyone with an interest in giant pistons, shiny gauges and other things you find in the guts of a steamship will be pleased to know you can see it all from the safety of a walkway above the action.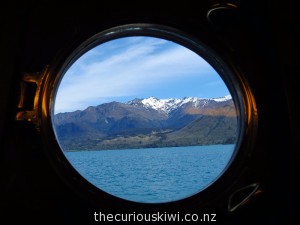 There's a cafe and licensed bar onboard, good views all round and seating inside and out, the engine room would be the place to linger in winter.
The 11km cruise across the lake to the stately Walter Peak Homestead takes about 45 minutes. We were rounded up (in the nicest possible way) by our guide Cam and taken on the farm tour.
Farm animals we saw included wrinkly merino sheep (minus their wool), red deer, alpaca and the gorgeous giants, Highland cattle.
There are 15000 sheep on Walter Peak Station, Cam sent his border collie Sue to round up three of them.
We finished the tour in the woolshed – little lambs created a smilefest, and Cam gave us a sheep shearing demonstration. The wool fleece from a sheep is worth around $120 and good shearers can shear 350 – 400 sheep a day. Wool is an amazing natural fibre, it's renewable (a sheep grows a new fleece every year), it's flame retardant. and breathable so it keeps you warm in winter and cool in summer (end of public service announcement).
Special mention has to be made of Cam, he was funny, friendly and informative, the perfect host.
Our time at Walter Peak Homestead ended with a buffet style afternoon tea of cake, scones and hot drinks.
Real Journeys run a few different combinations of cruises to Walter Peak. The farm tour and afternoon tea cruise costs $77 per adult, and just like Cam we give it the big thumbs up.
Tip: Check out the specials page, especially if you're taking children – during the NZ School Holidays kids travel free on selected departures.